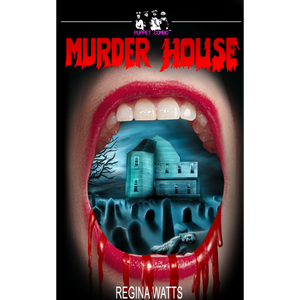 'Murder House' Novelization #3
Regular price
$13.99
$0.00
Unit price
per
YOU'LL BE HUNTING EGGS. I'LL BE HUNTING YOU.

You've played the game, now read the book! The third novelization in Puppet Combo's VHS Terrors Series, Murder House, puts you right in the middle of a classic 80s SLASHER!

Emma tells herself that a little time spent interning at the dysfunctional station of Channel 9 will help her get ahead—until the murder house. When she's dragged along with the rest of the crew to the site of the infamous Easter Ripper killings, the eerie atmosphere yields to bloody visions, ghostly apparitions, and a dismantled news van. On the window is a note with a familiar calling card: an offering of escape. Find the Easter eggs and live.

But can this really be the same man who called himself the Easter Ripper? With the killer allegedly executed on death row, Emma is faced with far more questions than answers...and almost no time left in which to answer them. While the Channel 9 team falls to pieces around her, can Emma come out on top of this twisted game?

Or will she be yet another victim to the brutal killer known as THE EASTER RIPPER?
---